Day 1
calls for a warm up on the coolest little Michigan trail that nobody is riding: Heritage Park in Adrian. I've been here once before, managing to link together a bunch of sections rather haphazardly. This time was different. I managed to work most of the sections into a coherent loop, by paying close attention to arrows, and a bit of exploring. Note that from the switchback descent just up the two track from the lot, you turn left at the bottom, climb back up the two track till it meets a two track to the right. Turn right on this two track until an arrow directs you back into the singletrack. Not every intersection is marked, but I managed to work it out w/out a compass or a map.
Aside from the switchback descent, there is a lot of singletrack running the side slopes between the high ground and low lying swampy stuff. There are a number of tech nuggets along the way to cut your teeth on, including a sweet(but overgrown- find it if you can)rock garden with a skinny in the middle, some stump rides, and an elevated ladder bridge that ends in a drop or skinny log option. Numerous log overs and log piles. There is also an advanced standalone section of trail on the West edge of the park, that starts/ends behind the soccer fields and runs South to the area West of the RC airfield. It is chock full of skinny bridges and the like.
If that isn't enough, go explore the trails that venture into the low lying areas. They are rife w/deadfall, and at times the trail is only marked by orange arrows to guide your way, where the tread isn't obvious. There are weedy bits, and a creek crossing rounds it out. This trail probably shouldn't exist, but it does, and it's worth a look if you're into it, and it isn't too wet.
Me playing on the aforementioned tech. Bridge and rock garden:
Day 2
is about unfinished business. Been to Mohican before. My ride ended at about 15 miles in, due to darkness/cold/rain/concerned locals. This time, I would arrive sooner, and ride longer. This is a GREAT XC loop. It starts you out cold from the trailhead with a 1.5 climb. A few switches, with gradual grades, and a few rocks. Once on top, you'll be greeted with a great mix of flowing sections, sustained climbs, and rocky technical bits mixed in.
Once you near the halfway point, you'll be greeted with a tremendous downhill section with switchbacks, some of which are a bit eroded. You can really fly through this section, catching a bit of air at times if you want. At the bottom of the descent is a covered bridge. Wipe that smile off your face, cause you are gonna cross that bridge, enter back into the trail on the road right, and climb back up... and up... and up! Seriously, this climb you will feel. A bit steeper than the first climb, and you've got ten miles of awesome in your legs already.
After this section, you'll cross the road again and drop in for the last ~10 miles of riding. This part was new to me, and it's awesome. Some big boulders near the trail, and a nice rock garden or two spice things up. The climbs and descents continue throughout. Be warned- this trail is a beast. I can turn Highland in the 1:40's and go back for more, but *this* place- it kicked my *beep*. Last five miles(out of 24 or 25 miles) brought major cramps on every significant climb, and I spun out pretty much every climb in the back half of the loop. Hard to prepare for that kind of sustained climbing on my local trails. AWESOME trail though.
Day 3.
I drove to Pittsburgh, and the plan was for Bavington, but heavy rains altered my plans. Headed North to Moraine State Park. Just. Amazing.
You only get a couple hundred yards(maybe) into the trail before it turns into a rock garden. These are large rocks primarily. Most everything is on the main trail tread, and some of it gets pretty advanced: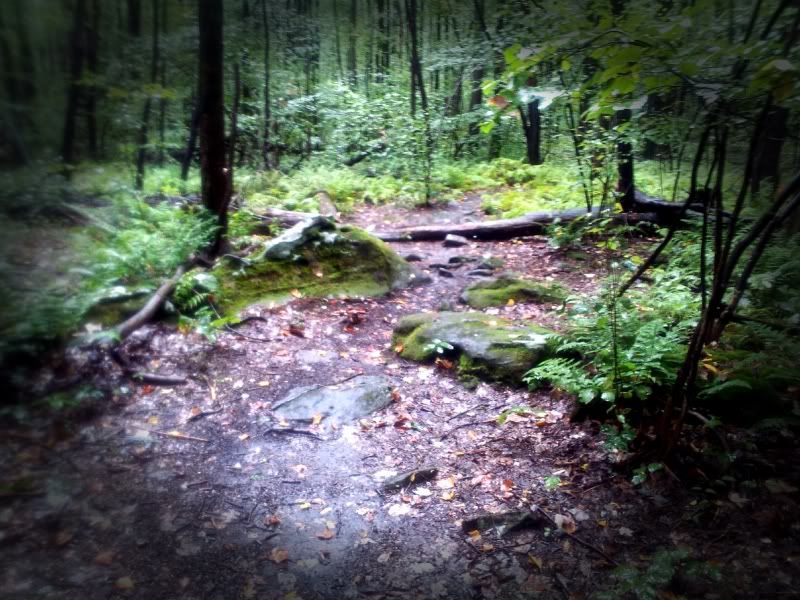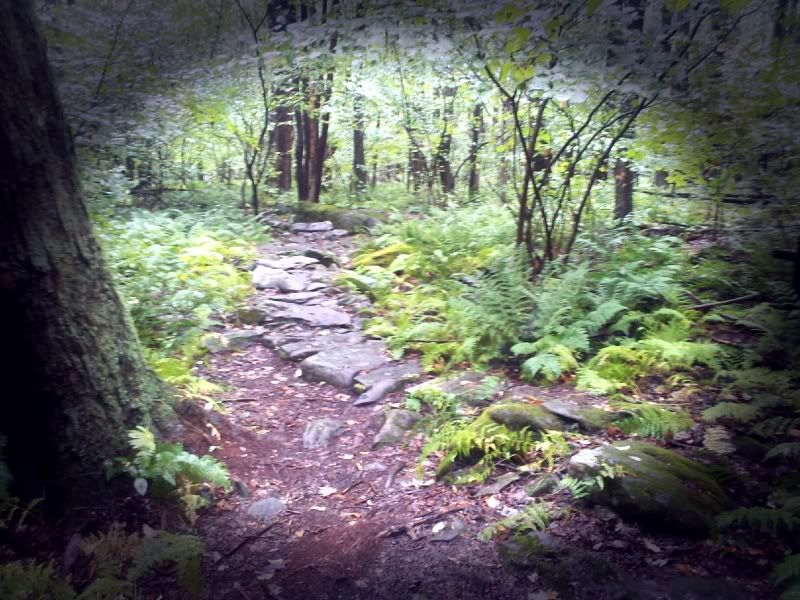 A nice downhill bit, located on a side trail option: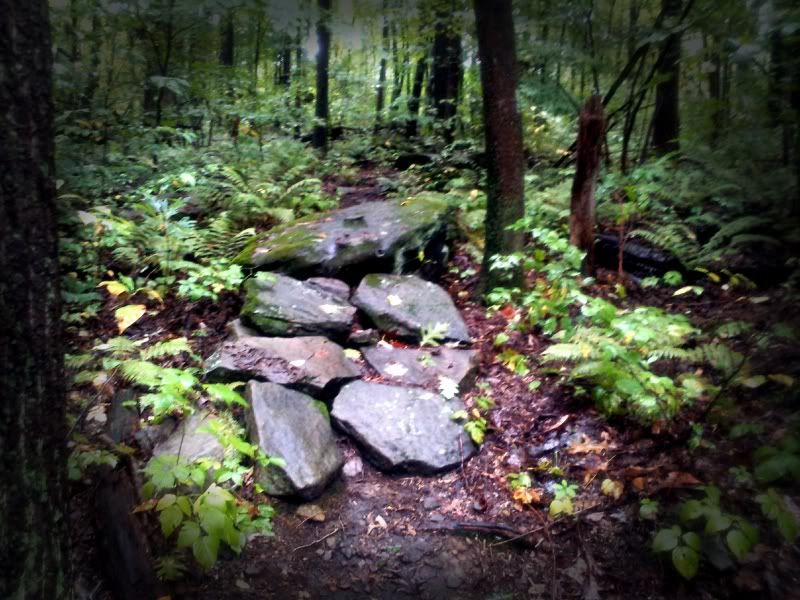 There is a nice downhill section of primarily dirt singletrack, but eventually the trail turns back uphill, and the rock step ups get larger: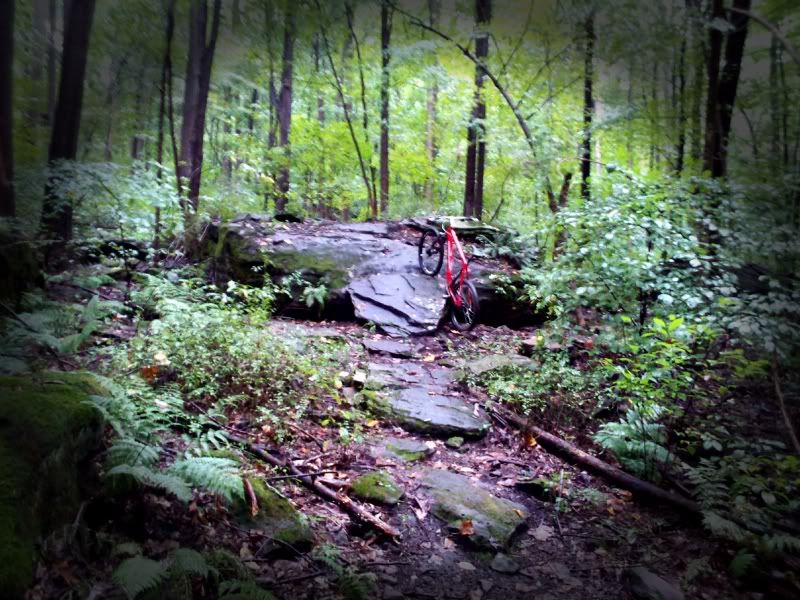 At this point, I had to kill my phone to preserve the battery in case of emergency, which is a shame. The features progress even more from here, with MASSIVE freestanding boulders, with rock pile entries and exits. The level of difficulty is off the charts. Comparable to the degree of difficulty at Schooner Trace at Brown County. A stunning trail. If you love difficult rock tech, you'll love it. If not, you'll be walking frequently. I would never tire of this trail.
A small compilation. Note that pretty much everything in the vids is bigger/badder/tougher/much more intimidating in person, but at least it's a taste:
Day 4.
Allegrippis Trails at Raystown Lake, PA. I've covered these trail extensively in a previous thread, so I won't expound much here. I had one day to give, so I tried to roll the best into one epic ride. The chosen route was: Buck to Doe to Sleek Dog(took a rock clean through the tire here) to Switch to Osprey to Sidewinder to Berry Patch to Rays Revenge to Locomotive to Red Legs to Allie to Buck and back out. You have to, have to, HAVE TO ride these trails if you ever get the chance! Sooo bloody fast and sooo bloody fun...
I cut it loose out here, and payed a price. Be warned that these are the fastest, most flowy lines you might ever ride. They BEG you to push the limits just beyond your comfort level. I did so, and twice washed out in loose rocks, resulting in two high speed crashes. The first one gashed my knee up a bit: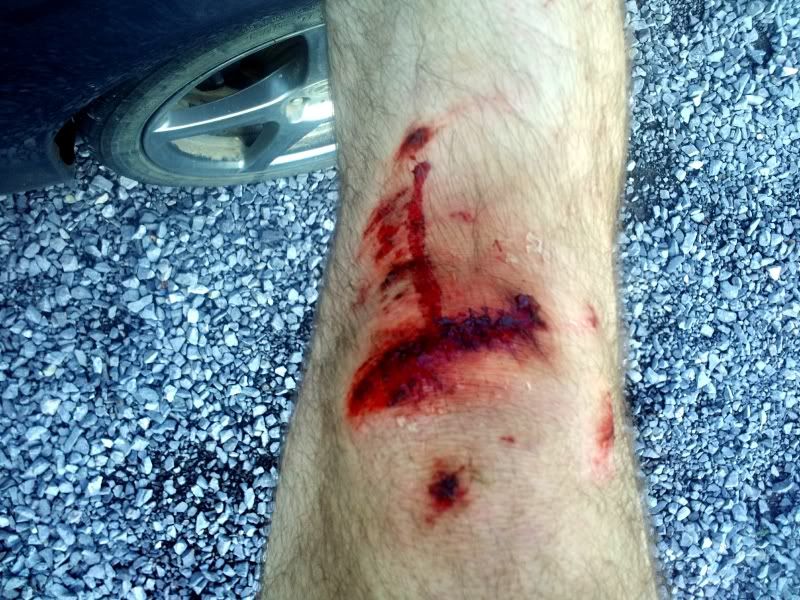 I got up, finished shredding these trails and had a blast. Met some cool folks at the TH after. A couple of helpful locals, and some geezers from Ohio, one of which was a former MI transplant.
If you've time, venture over to Trough Creek S.P. and hike up the hill for the views:
Balanced rock: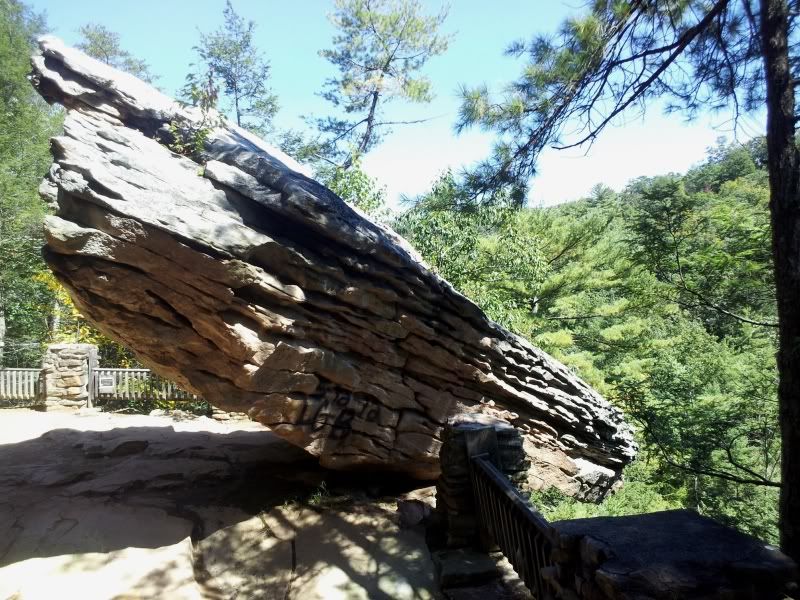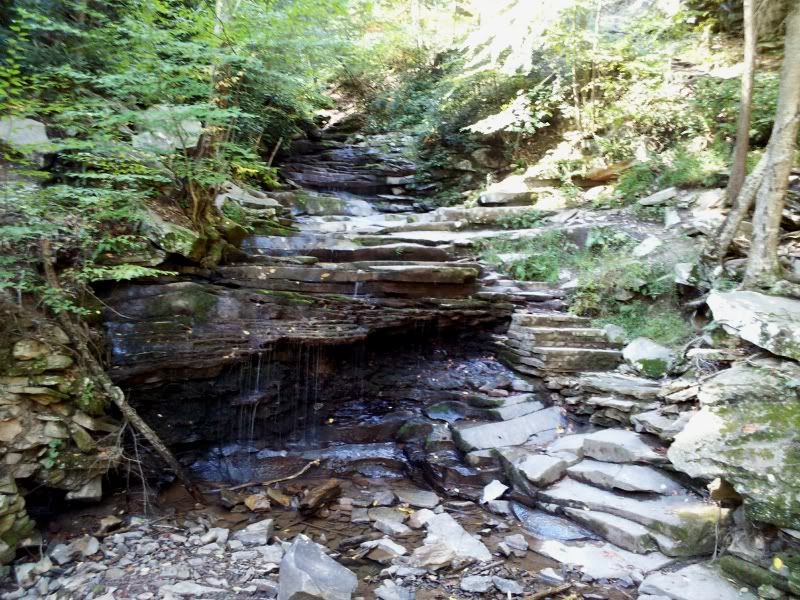 Cooperas Rock. You can actually see the light dance on the wall in the early afternoon sun: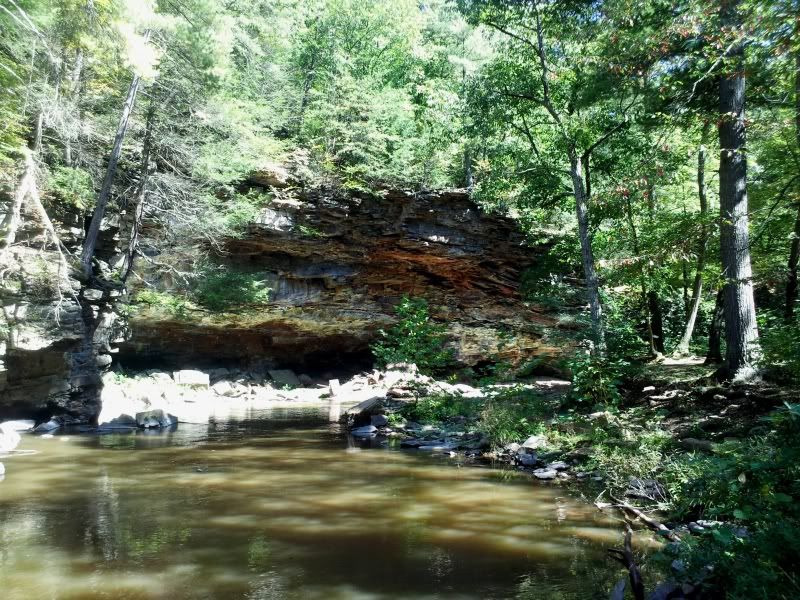 Amazing terrain out here. Worth the time to wander.
Day 5:
Rothrock State Forest- Tussey Mtn area. First, a trip to The Bicycle Shop in State College. This, and/or Freeze Thaw are the goto shops in State College. I picked up a 2.25 Ardent EXO and 2.4 Conti X King for today's riding. Using the Purple Lizard map, and a route suggestion from a local, I set out. From the TH, up Bear Meadows Rd to Corner Rd. Then Camp Trail to Tussey Mtn trail. Took that to Lonberger Path, before hooking up with a local to finish. We hit Bald Knob Ridge, then Maguires, and a couple others(not positive on the details here). Finished with 3 bridges and back to the TH.
I brought a knife to a gun fight. The rock gardens are epic, but I wasn't prepared for the relentless onslaught of rough, rocky trail in between them. Imagine thousands of bricks, randomly buried at every angle, and protruding out of the ground at various heights. This is the trail bed on much of Tussey Mtn trail. FS strongly recommended here. Bring it. Rent it. Doesn't matter.
Tussey Mtn burnout zone: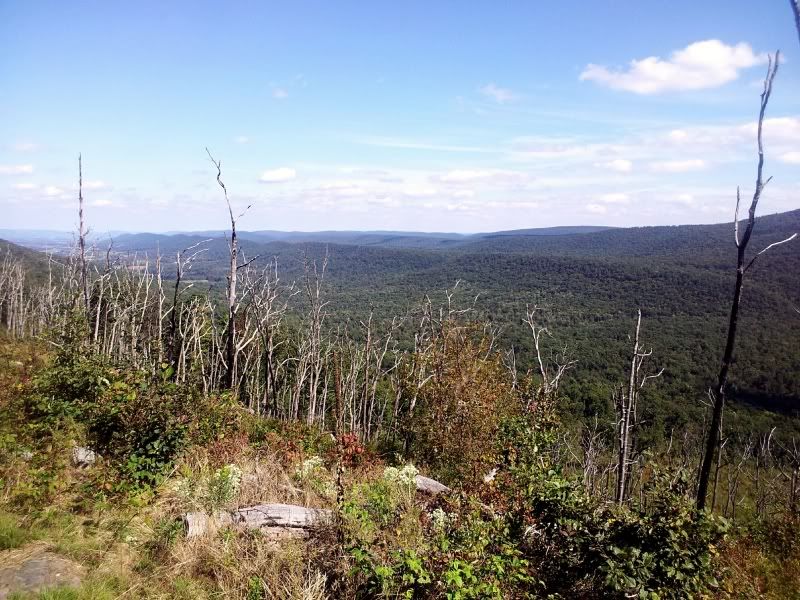 Rock gnar from Tussey/Lonbergers: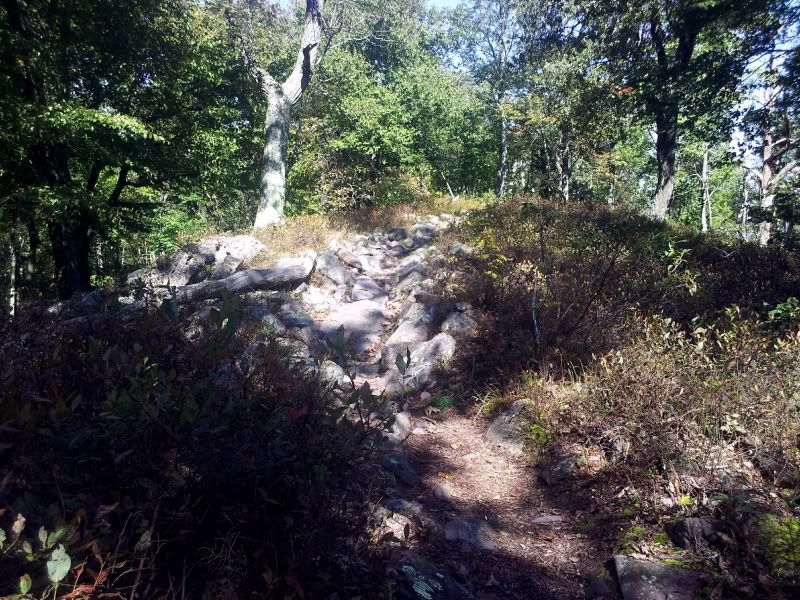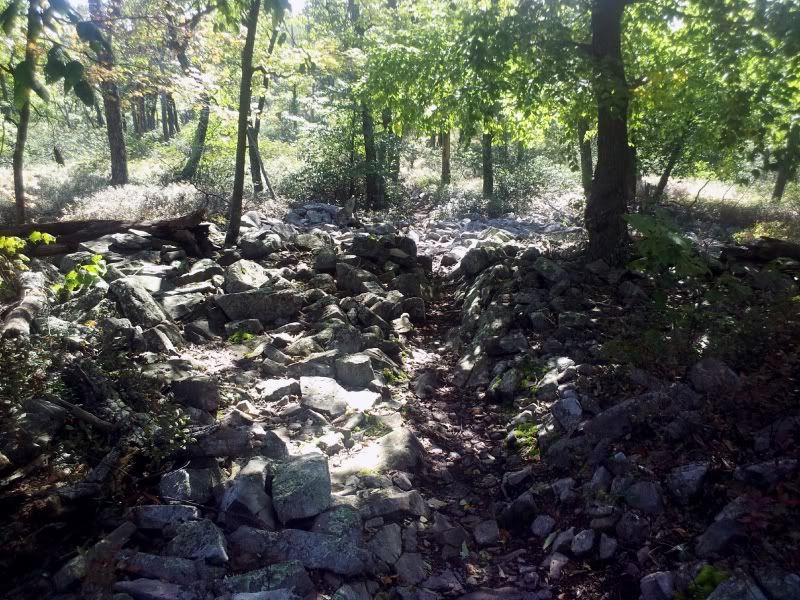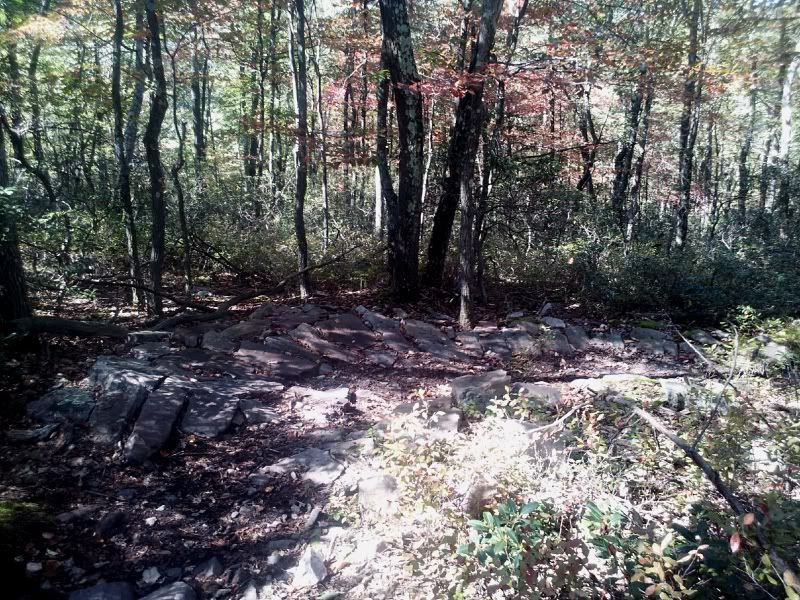 A fun little log ride, with a Penn flavor on the entry/exit: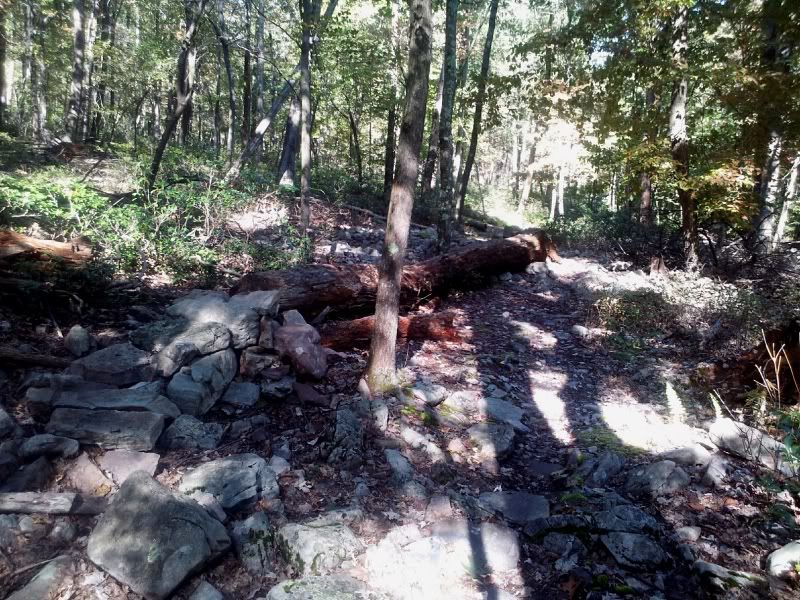 Some fun riding that, and another rock garden, both on Lonberger:
The bottom of Lonberger has some very sustained downhill dirt singletrack that flows very well. Keep alert though, as it eventual chokes down to a narrow line of rock armoring. You'll be going very fast, and it sneaks up on you. Bald Knob Ridge has some tough switch climbing, and one VERY technical, rocky descent. Worlds different from any descent I've ever ridden.
You could spend days here with ease, but be prepared to work for your trail. When you aren't climbing, you'll be traversing VERY technical tread. It's as if the trail stole your bike and is trying to beat you to death with it. :-0 Good stuff though.
Day 6:
Ellicottville, NY. Just like Rothrock, this place boasts IMBA epic status. I stop in at the Ellicottville Bike shop, where Dennis sets me up with the map and a route suggestion. He lays out a 20 mile route that traverses some excellent terrain. The TH is right next to the High School, and you start out with a tough 2 mile switch climb to the top. From here, the trail levels out a bit, and you'll soon be greeted with this: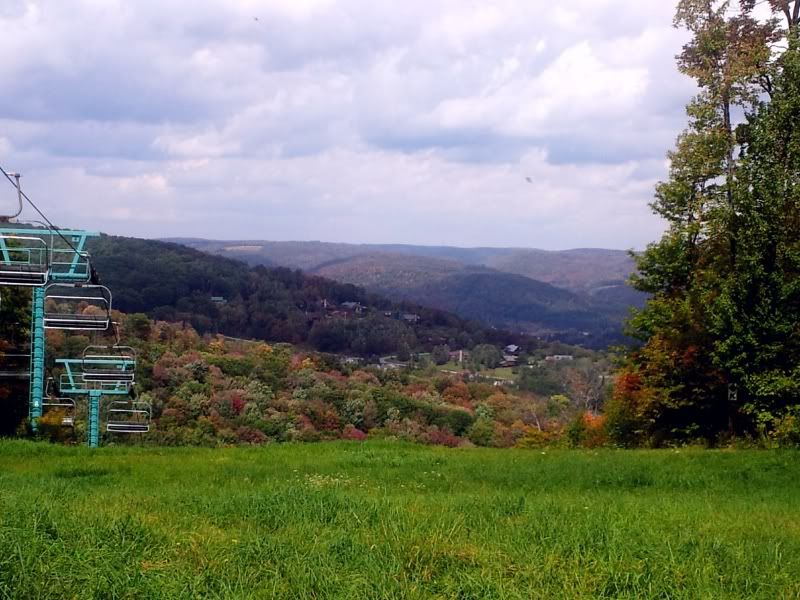 Unlike Rothrock, this trail has a lot of MI style dirt singletrack, albeit more rooty and tech than most MI trails. The rock gardens kick in on the 'White' trail: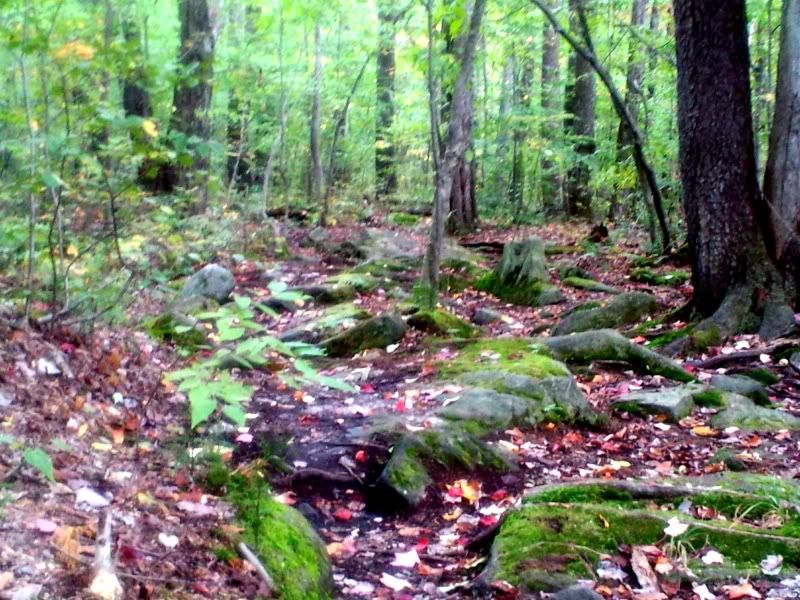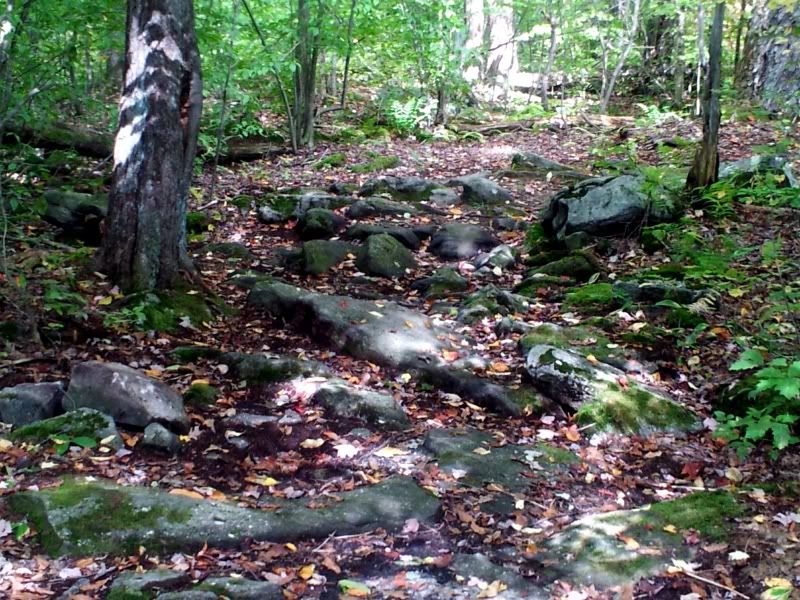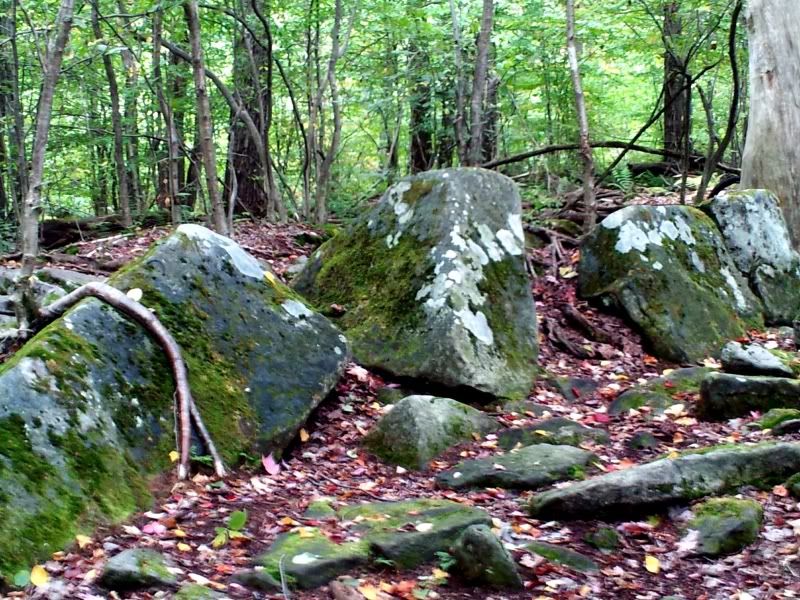 A brief snippet from the rock garden pictured above:
Some terrific DHs and some descent climbs ensue. At the end of the ride, that 2 mile climb is now a 2 mile switch descent, and it seems to last forever. What a great way to end a ride.
Next time out, I'll venture out to 'Little Rock City', where some of the sustained rock gnar resides. Trail names like Bent Rim piqued my interest, but I didn't have time to get out that far on this day. After stopping back in to ask Dennis about them, I'll definitely check them out in the future. It's nice to talk to a guy who is immersed in the sport. Dennis rides 100 mile races and rides the tech out here as well. He can set you up with the ride you're after. PM me if interested in the specific routing I took. I don't have the info handy ATM...
Day 7:
West Branch. Hard to top my previous locales, but this place blew me away. Both scenic and challenging, this place is a must ride for the tech oriented rider. From the TH, traveling in a clockwise loop, you'll initially snake your way through the woods on some very fun singletrack along the lake: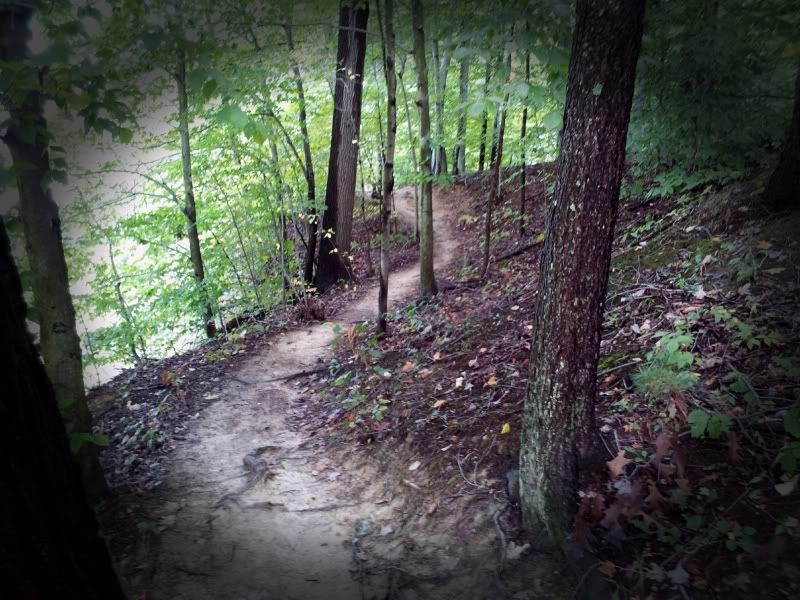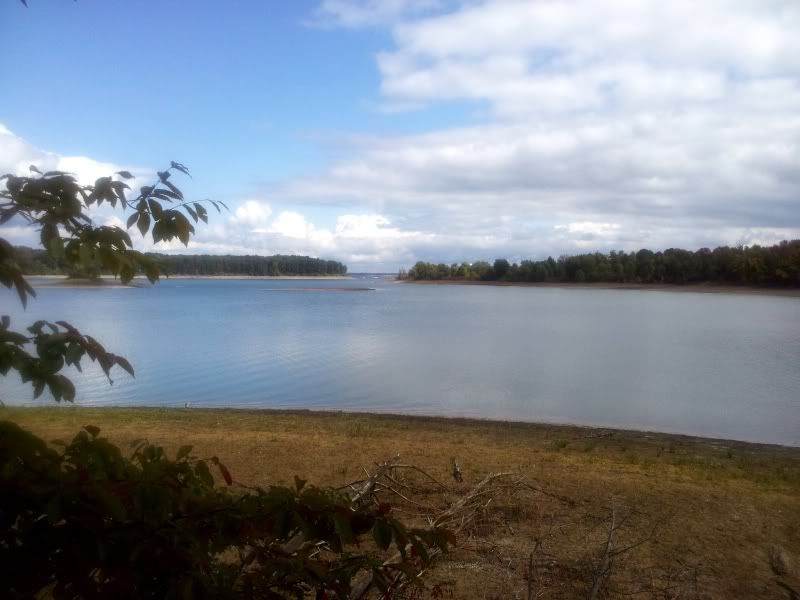 A rain the previous nights made the roots pretty treacherous, and this place is best run in dry weather. It does hold water is places. I'd later talk to a rider from near Pitt that took a nasty crash only a half mile in, resulting in an AC separation in his left shoulder.
Once you complete the lakeside stuff, you'll pop out onto the old road bed that cuts through the middle of the trail network. Take a left, pass the gate, and go right on the road till you see the entrance for the Quarry loop on your left. AWESOME stuff: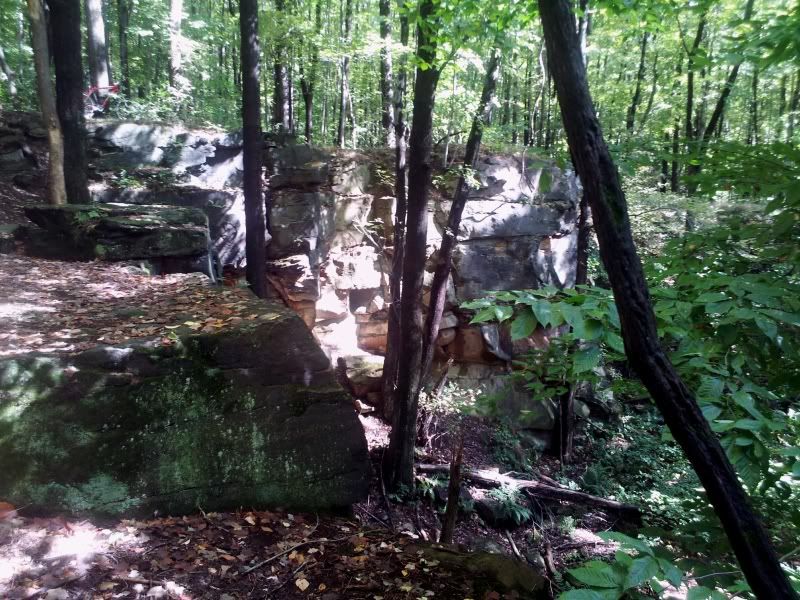 There are some VERY tough rock gardens in here with no bypasses. The scenery is worth the ride, even if you have to walk your bike.
Return back to the main loop either by road, or the two track connector(take a pic of the kiosk map if you need to). The stuff on the South of the old road bed is where the majority of the tech is at. You'll traverse some ravines above a creek, and even ride through the slate bottom creek at one point: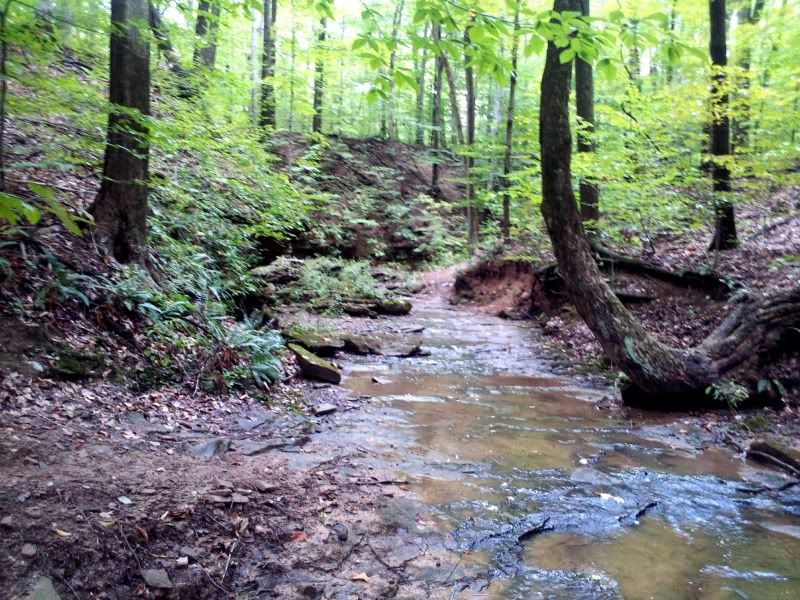 The Rock Wall section is marked as 'Expert ONLY', but I'd class it as a high end advanced section. I was able to clean most of it, and believe I could clean it all in drier conditions(I'm not an expert rider). A few of the sections on the S. of the road bed are labeled as black diamond, and there is plenty of tech to keep you on your toes.
Here is the start of the last segment before the trailhead. A rather unique, and long skinny: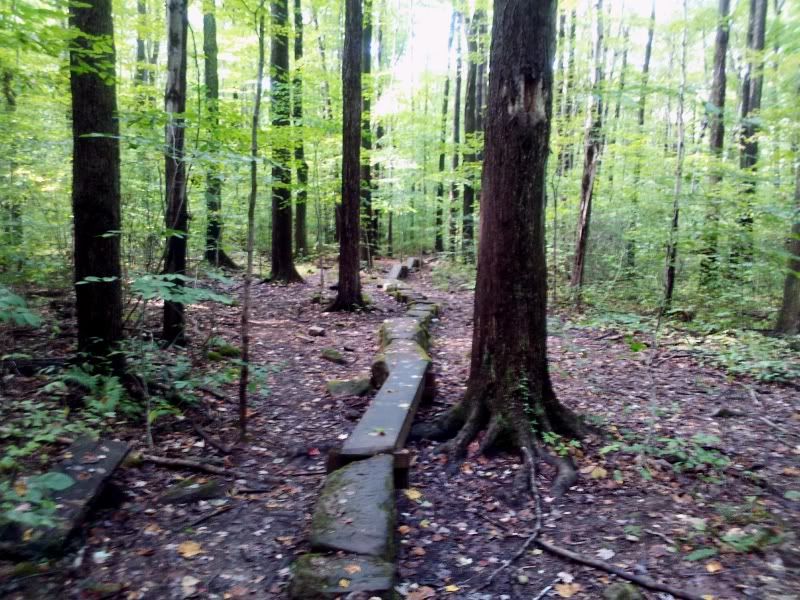 ============================================
So there it is, in a nutshell. One week. One man, a car, and his bike. Some of the best riding this half of the country. If you have the opportunity, I'd highly recommend any of the options along this route.